Demographic Data | Postcode Demographics
Research the demographic of a postcode sector.
Ensure that your next marketing communication is reaching the right audience with the right message.
Compare postcode sectors easily.
Over 8,900 postcode sectors in England, Scotland & Wales covered.
Simple, easy to use web interface (no software required)
Web Based Geodemographic Reports
Our postcode demographic data covers over 8,900 postcode sector's within England, Scotland and Wales.  With this data and our easy to use web interface you are able to  research geodemographic data quickly and effectively.  With only a few clicks you are able to research a single sector postcode demographics or compare multiple sectors within a postcode area or district.  The added ability to download the demographic data file as a spreadsheet allows you to sort the data in your own way.   Our online tools are all mobile and tablet friendly so you can generate your data reports or research an area, on the go.  All  of our tools (single sector reports, area, sector and district comparison reports) are included in our demographic data subscription package.
Demographics Include:
Households
Average House Price
Businesses
Post Town
Average Household Size
Population (estimate)
Gender Split
Social Status
Age groups & Average Age
Average Number of Bedrooms
Property Type
Tenure
Employment Status
Marital Status
Household Occupants
Ethnic Group
Religion
Disability
Vehicles in Household
Children in Household
Check to see if we cover your postcode
Use our search tool to see if the postcode sectors (i.e PE7 8) you are looking for are covered.
Single Postcode Sector Demographic Data
Our single sector postcode demographics data tool enables you to research a particular postcode sector in less than a minute.
Have a look at our video showing you how quickly and easily the reports can be ran.  The postcode demographics are displayed in an easy to read format and can also be exported into a spreadsheet.  As with our other online geodemographic tools,  the report is mobile and tablet friendly enabling you to research a postcode sector wherever you are.
Features Include:
Download to excel facility
Bespoke search results screen available
All Postcode Demographics covered in the report
Over 8,900 postcode sectors with demographics
England, Scotland and Wales are all covered
Mobile and Tablet Friendly
Want to use this geodemographic tool for your sales teams or clients. A bespoke landing page can be created for you, with your company branding and multi user access.  Contact Us today to find out more.
Postcode Demographics Comparison Report
Compare multiple postcode sectors with our user friendly geodemographic online tool.  The results will show all postcode sectors within your defined area and highlight the key postcode demographics.  With only one click you can export all the  postcode demographics for the sectors in your search results.
Compare  multiple postcode sectors
Download to excel facility
Bespoke search results screen available
All Demographics covered in the report
Search by Area or District
Over 8,900 postcode sectors with demographics
England, Scotland and Wales are all covered
Mobile and Tablet Friendly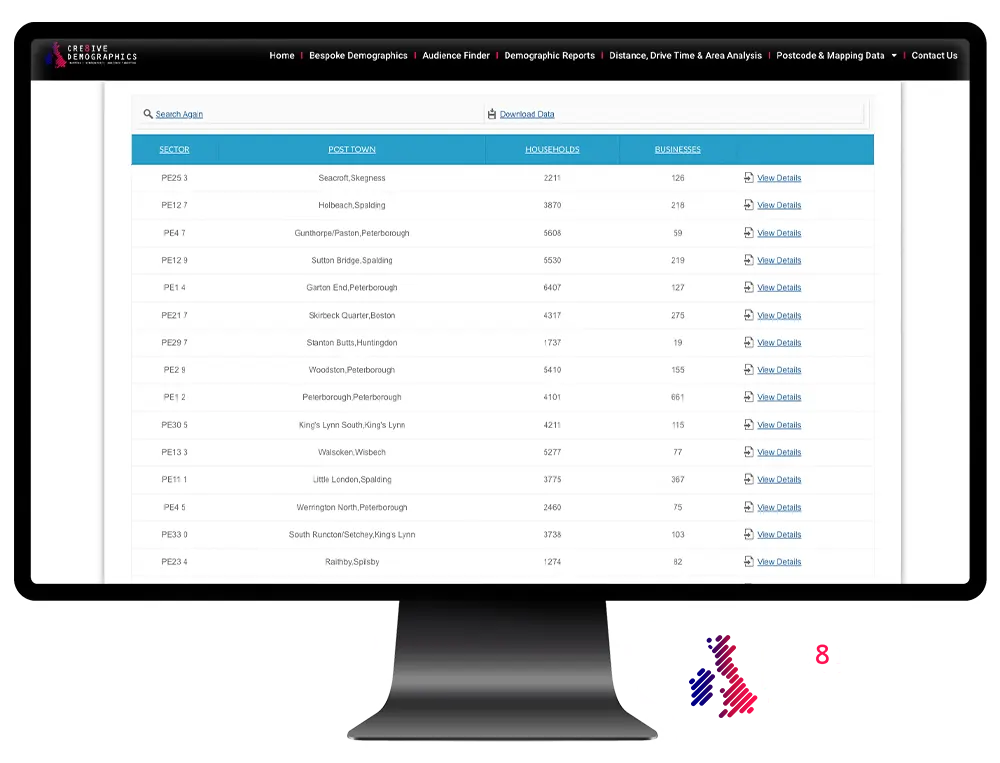 Annual Subscription
Pay Monthly
Spread the cost of an annual subscription with monthly payments

Minimum 12 month contract
Annual Subscription
Pay Upfront
Purchase an annual subscription and get 12 months for the price of 10
One off Report
Single report
Single Postcode Sector Demographic Report provided